Wellbeing & Mental Health Support
School Based Services
At Orchard Park, we place mental health and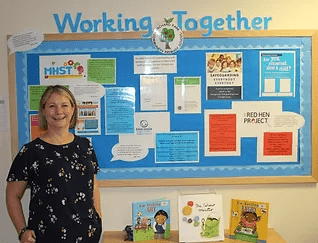 wellbeing at the core of our ethos. Evidence shows that a co-ordinated approach to improved pupil emotional health and wellbeing leads to to readiness to learn.
Mrs Cara Gilhart is our Inclusion and Wellbeing Leader. This non classed based role focuses solely on welfare and wellbeing, inclusion and access. Cara Gilhart is an experienced teacher with an extensive background in counselling and mental health support. Her role at Orchard Park is to support pupils and their families to ensure the best for all. This maybe through working directly with the pupils and their families or sign posting to school based or local services.
Cara Gilhart offers a unique and bespoke service to the Orchard Park Community and can be contacted via telephone or email as specified on the contact page. Mrs Gilhart is also on the school gate at the beginning and end of each day.
School Linked Services
The Red Hen Project is a small local charity working with three primary schools in North Cambridge. They support children and their families to overcome barriers to learning, and provide a link between home and school. Their Red Hen family workers work one-to-one with children and families in their home, at school, and in the community. The Red Hen Project also run a range of outreach group activities; parenting courses, coffee morning, drops-ins, workshops, family activities, trips, and volunteer opportunities.
Orchard Park is one of nine Blue Smile partner schools, promoting a whole school approach to mental wellbeing, in addition to one-to-one counselling and therapy for children.​
Lucy O'Brien leads a team six to seven therapists and mentoring counsellors who are on site every Thursday. On each 'Blue Smile Day', Lucy and her team work one-to-one with up to 18 pupils. Therapists also work with parents, carers and teachers on goals and strategies for helping the child with their emotions.
Any stigma around mental health and well-being is kept to a minimum because they are known as a vital part of our school.​
For more information regarding Blue Smile support for your child, please contact Mrs Cara Gilhart.
Mental Health Support Team (MHST)
Mental Health Support Teams (MHST) have been working at Orchard Park for several years and have a focus on early intervention. They work in partnership with our school community and other wellbeing services to develop a whole school approach to mental health and wellbeing, building on what is being done already. They aim to achieve this goal through offering a range of services, including:
Improving access to mental health support and services.

Delivering training and workshops for schools and parents

Providing consultation to schools on mental health and wellbeing

Individual and group interventions for children and young people experiencing difficulties with managing emotions.
​Feedback from our families state that support from MHST has made a significant difference to both pupils and family members. Common themes for support include anxiety related to food, sleep and relationships.
For further information, contact Cara Gilhart.